Album available on iTunes
Album on sale on

iTunes
Animation journée de la culture

Austin, QC
LE CABARET DU SLAM
Tuesday April 5, 2022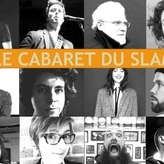 This summer, LE CABARET DU SLAM will be presented on July 8th and 9th.
8 poets and two musicians will deliver performances that will impress the audience in a festive and dynamic atmosphere.
July 8 at the Center Trinité in St-Jean-sur-Richlieu 7 p.m.
July 9 at Austin municipal park near Magog 7 p.m.
Do you like this story?