Album available on iTunes
Album on sale on

iTunes
Slam Workshop

Saint-Jérôme. Qc
LE CYPHER X2 22 AVRIL
Thursday April 21, 2022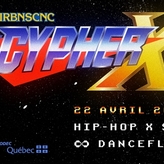 14+ 
 musicians on stage + 
 full band setups + 
hrs of uninterrupted music + 
 Virtuosic Hip-Hop & Soul + 
 Special Guests




Every URBAN SCIENCE #LECYPHER show is totally unique, pushing the boundaries of the future of hip-hop. This live band creates uninterrupted sets on the fly, all while keeping the dancefloor moving and the imagination racing. With every performance, instrumental and vocal virtuosity of the highest degree are on display, from blazing guitar solos to epic freestyle raps. #LECYPHER X2 is the next evolution of #LECYPHER, featuring 14+ musicians in two entire band setups on stage at the same time, and creating 4hrs of uninterrupted music in a truly unique concert. This new concept will premiere at URBN SCNC WKND.




PETIT CAMPUS
57-b Rue Prince-Arthur E


 $13
CASH ONLY AT THE DOOR


 Informations générales
20h30 Ouverture des portes
21h30 Music
1h30 Close
Do you like this story?