Album available on iTunes
Album on sale on

iTunes
Slam Workshop

Saint-Jérôme. Qc
Happy new year 2016!
Monday January 4, 2016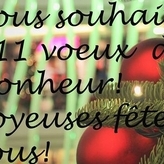 Together, the road seems shorter. Go further ... For 2016, have the strength to believe in our dreams. Give our projects a little more of ourselves to build a better future. May the year 2016 bring you happiness and success , success in your projects and the fulfillment of your dreams.
Do you like this story?