Album available on iTunes
Album on sale on

iTunes
Animation journée de la culture

Austin, QC
The KVC's legendary Tuesday night!
Tuesday May 24, 2016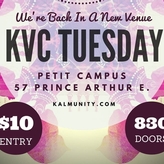 MC JUNE is honored to be part of KVC collective. Kalmunity is Canada 's Largest artistic collective of artists notable Who gather weekly to Produce 2 of Canada 's longest running musical improv events . Live Organic Improv. Freestyle. Jazz. Hip Hop. Soul. Reggae. Dancehall. Spoken Word. World. Afrobeat. Latin. Funk. Blues. Electronic. Old School. Experimental. Rock. Fusion. Come see this amazing collective every Tuesday night, at Café Campus, 57 Prince-Arthur-Est, Mtl, 8PM
Do you like this story?