Album available on iTunes
Album on sale on

iTunes
Slam Workshop

Saint-Jérôme. Qc
VÉRITÉS album launch
Friday March 10, 2017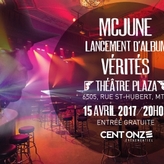 We invite you with pleasure at  the launch of  the new album "VÉRITÉS", 
the 2nd album presented by MC JUNE! Beautiful surprises, incredible guests 
and an evening that you will never forget! Dj Horg at the decks!
Special guests: Kalmunity, Eric Speed, Paul Cargnello, Vincent Stephen-Ong, Ben Comeau, Monk-e, Geneviève Gauthier and many artists will be there!
Do you like this story?