Album available on iTunes
Album on sale on

iTunes
Animation journée de la culture

Austin, QC
La St-Jean with MC JUNE at Racine
Monday June 19, 2017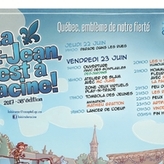 This year, come celebrate La St-Jean in Racine with MC JUNE.
Several good artists will be a part of the party. Mathieu Gratton, Le 4 haïssables, La chorale la Farandole, Raton Lover, Artifaille, ainsi que Vincent Poirier.
June performance at 9pm. Be there Ladies and Gentlemen.
144 QC-222, Racine, QC J0E 1Y0
Do you like this story?