Album available on iTunes
Album on sale on

iTunes
Animation journée de la culture

Austin, QC
EP Launch and 10th Anniversary
Thursday August 22, 2019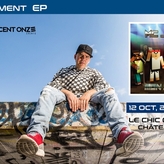 MC JUNE is proud to present you his new EP album "MON GAME" and at the same time, June marks his 10 year career anniversary as an artist and manager. He invites you to celebrate with him at one of his two events.
Saturday October 12, in Châteauguay at the restaurant bar: THE CHIC CHANTIER.
Free admission.
Children are welcome
Opening of the doors 18h.
Perfo 19h.
And Tuesday, October 15 in a 5 to 7 formula at the Quai des Brumes in Montreal. Free admission.
See you there.
Do you like this story?