Album available on iTunes
Album on sale on

iTunes
Animation journée de la culture

Austin, QC
MON GAME MC JUNE
Tuesday September 24, 2019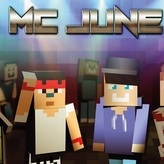 It's today that we can listen to MC JUNE's new EP. 4 songs MON GAME. The topics covered are video games, hockey, his art and questions about the human life. The beats were made by Jean Michel Frederick. To the production: DJ Horg and MC JUNE. Sound recording, arrangements and mix: DJ HORG. Guest Musician on Mon temple: DREY SAX.
Available on all digital platforms.
Click here to listen to it.
Do you like this story?