Album available on iTunes
Album on sale on

iTunes
Animation journée de la culture

Austin, QC
MC JUNE releases his new poetry book with illustrations
Monday March 23, 2020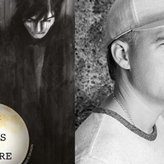 Thanks to the publishing house Bouton d'or Acadie for the new illustrated poetry book signed MC JUNE.
Its now available in physical and digital versions. You will find 29 poems by MC JUNE and several illustrations by Marieve Grondin. An excellent book for teenagers and fans of poetry.
Here is a link to order it, click here
Happy reading to all.
Do you like this story?