Album available on iTunes
Album on sale on

iTunes
Slam Workshop

Saint-Jérôme. Qc
Ça slam par chez nous
Wednesday March 22, 2023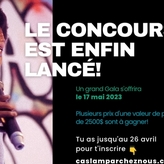 next may 17
Slam contest with eight prizes up for grabs totaling
$2,500
Two categories of participation
You have until April 26, 2023 to register.
Open to everyone aged 12 to 35, residing in the Longueuil Agglomeration. Info at caslamparcheznous.com
See you May 17. ??
Do you like this story?