Album available on iTunes
Album on sale on

iTunes
Animation journée de la culture

Austin, QC
Conference at La Ruche school in Magog
Friday August 25, 2023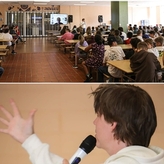 Already my first two conferences this year.
I had the chance to meet the new Secondary 1 students at La Ruche school in Magog.
A nice bunch!
Reception of secondary 1 students and school adaptation.
Entertaining them, playing with words while sharing my artistic journey.
Little memory of my visit. Glad to see you !
Do you like this story?