Album available on iTunes
Album on sale on

iTunes
Slam Workshop

Saint-Jérôme. Qc
Slam, Rap, Poetry & Cie Festival
Monday October 2, 2023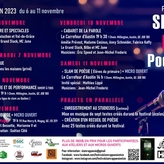 MC JUNE is the founder of the Slam, Rap, Poetry & Cie Festival.
It will take place on the territory of the MRC Memphrémagog from November 6 to 11, 2023.
Here is the programming. View the photo.
Thanks to Austin, LAPÉA, the MRC Memphrémagog, the Conseil des arts et des lettres du Québec and the Austin Cultural Committee for the support.
We will have writing workshops in schools and for citizens. Shows in schools, at the Auberge jeunesse Magog-Orford and at Carrefour d'Austin. Private shows in homes via the Poetic Journey. A poetry book will be created. A musical album will be recorded at Studio205 with the texts created in the workshop.
For information: slamrappoesie@gmail.com
Do you like this story?