Album available on iTunes
Album on sale on

iTunes
Animation journée de la culture

Austin, QC
The return of FIGURES DE STYLES
Friday September 13, 2013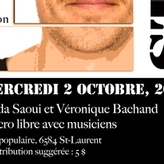 Our open mic is now back. Come and share a text!

Figures de Styles it is an open stage where everything revolves in some way around poetry is expressed on the same stage. For the second season, the organizers MC June, David Leduc and Julie Dirwimmer their home in Bar Populaire. 


Octobre 2nd 20h    6584 St-Laurent  Montréal
Do you like this story?